Click here to access the full Northlands Dënesųłiné First Nation Waste & Recycling Initiative DRAFT Report & Plan.
In 2016, after extensive consultation and discussion among its leadership and community members, Northlands Dënesųłiné First Nation (NDFN) published a Sustainable Development Strategy[1].
Recycling and waste management to date
The Northlands Dënesųłiné First Nation (NDFN) has a little over 1,100 members. Its main community is situated on reserve land on the north shore of Lac Brochet and has approximately 1,000 residents.
Most of the waste generated by this community is transported to a waste collection area on provincial Crown Land approximately 2 km north of reserve land. Before the start of this project, there was not a systematic or comprehensive approach to recycling in the community. There is no consistent system for how people make their trash available for collection and there are no standardized residential collection containers.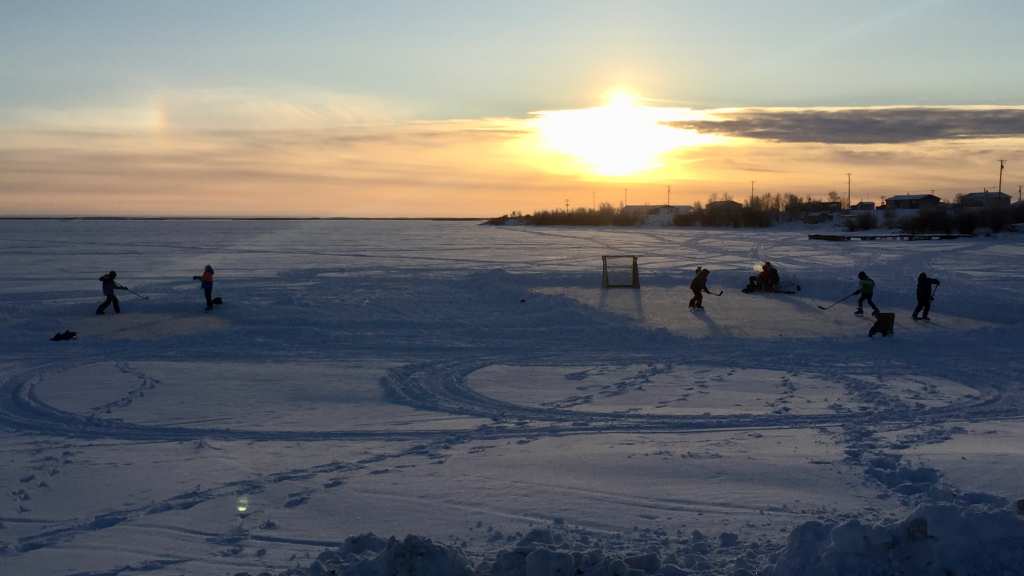 Derelict Heavy Equipment Area
Approximately 30 derelict heavy vehicles are located on reserve area in a field just south of the community adjacent to the Band's Public Works Garage. With the recent increase in capital and infrastructure projects in the community, some effort has been made to clean up this area.
Current Waste Collection Area
Some improvements were made to this area during the current project, but more remains to be done.
The primary problems with the Current Waste Collection Area prior to the start of this project included:
Unrestricted public access

No set hours
No fencing
No gate

No signage informing residents of appropriate dumping areas
No separation of recyclables from the general waste stream

Neither organic nor inorganic recyclables are separated

Frequent, uncontrolled burning of household waste

No Burn Cage
Burning not conducted by trained personnel
Ongoing risk of forest fires

Deposited waste is not covered

Winds blow lighter pieces of waste into surrounding areas

Waste is spread out over wide area
Waste is often mixed with sand and gravel, resulting in low density of garbage
Waste has blown into a former quarry near the Active Dumping Area
Although there a number of waste and recycling challenges in Northlands Dënesųłiné, there are strong reasons for optimism.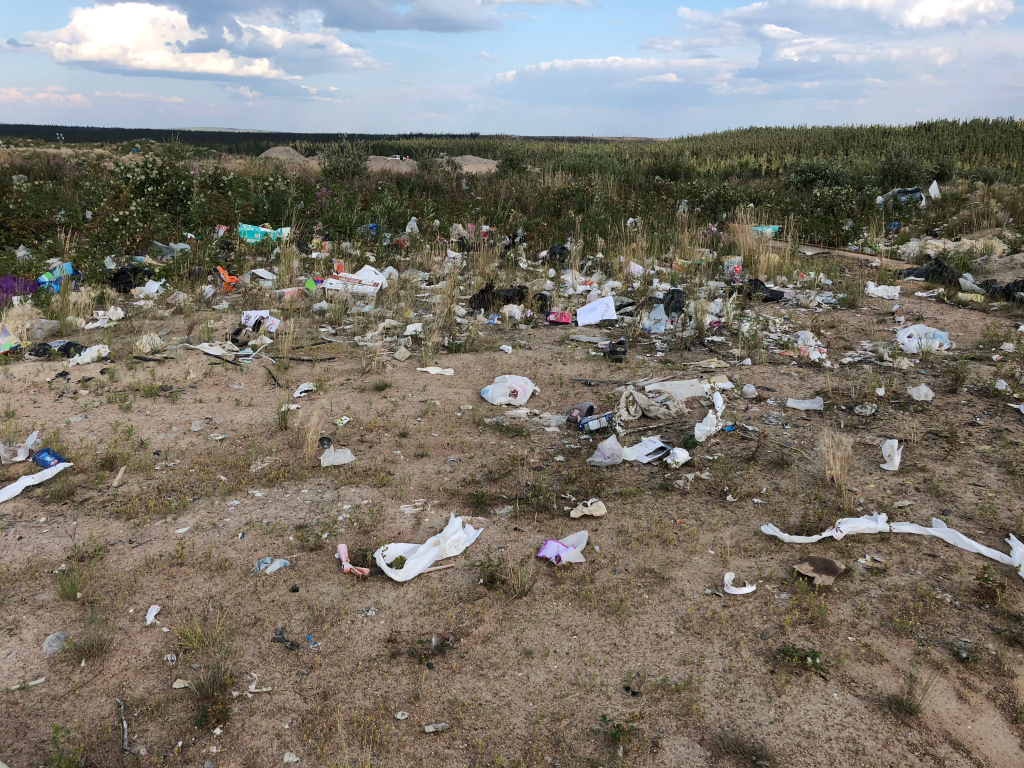 Proper management of waste—and a robust recycling program—are priorities in the Sustainable Development Strategy.
There are no derelict vehicles around the homes or along the side of roads in Northlands.
In an average year, roads and paths within the community have only a small amount of litter.
Current Project
This project was initiated in Summer 2017 by NDFN Chief and Council in discussions with members of the Boke Consulting team, as a means of implementing the priorities and strategies for waste in the Sustainable Development Strategy.
An application was made in 2017 and funding was committed by Indigenous Services Canada.
Work on the ground began with recruiting a Cleanup Crew. Community members were invited to sign up to join a Cleanup Crew. Any community member currently on Income Assistance was eligible to join the Crew.
All were trained on the basics of safe work and separating recyclables. The Cleanup Crew began by working their way systematically through the community, cleaning up litter and other small waste items.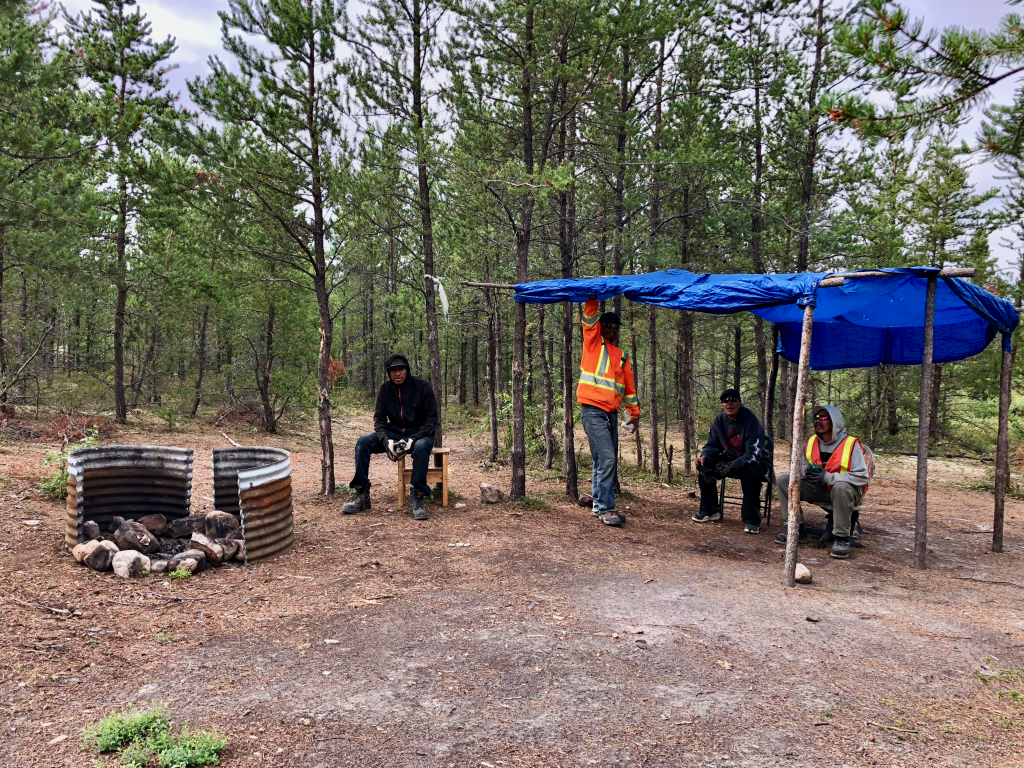 The Plan
YEAR 1
Engaging the community


YEAR 3
Plan Review & Improve


develop school curriculum

work with Northern Store to reduce packaging

choose staff; begin operations;

begin training

continue operations & training;

supplement staff with WOP participants & summer students;

develop mandate & governance

Managing external agreements

prepare & ship materials;

review agreements annually

Creating recycling & waste boxes and stations

set up Recycling Depot & Transfer Station

build & distribute household boxes

repair & replace community & household boxes, as needed

Bringing WMF into compliance

build fence & sub-cell separators

review operations with governments

Implementing comprehensive collection & waste management system

choose, purchase and ship equipment & supplies

begin in-vessel composting;

begin using recycling shuttle

repair or take apart derelict buildings

review waste & recycling collection & management

Cleaning up waste backlog

set up vehicle decommissioning

vehicle, equipment and appliance decommissioning, staging and shipping

Monitoring current and legacy waste sites

choose monitoring company

take & send samples for analysis annually