Focus
We're proud to say that many of the clients we serve are First Nations. We work with First Nations as they:
develop sustainable building projects, and
In everything we do, we are guided by a few core principles:
We will treat others as we wish to be treated—with respect, honouring the dignity that is inherent in every person.
Because First Nations in Canada are sovereign, we will treat each of our First Nation clients with the respect a sovereign government deserves.

As individuals and as a company, we will honour and uphold the treaties that govern the relationships between First Nations and Canada.
We are are all treaty people, and we strive to be a treaty company.

We commit to implementing the Truth and Reconciliation Commission's Calls to Action, with a special emphasis on those directed towards the business community.

We adopt the United Nations Declaration on the Rights of Indigenous Peoples as a reconciliation framework and will apply its principles, norms, and standards to our company's policies and to all our activities.
We commit to meaningful consultation, to building respectful relationships, and to obtaining the free, prior, and informed consent of the First Nations governments and people we work with on all our projects.
We will ensure that indigenous people will have equitable access to jobs through our company, to training, and to education opportunities.
We will ensure that the communities we are involved with gain long-term sustainable benefits from our involvement.
We will provide education for our company on the history of Aboriginal peoples, including the history and legacy of residential schools, the United Nations Declaration on the Rights of Indigenous Peoples, Treaties and Aboriginal rights, Indigenous law, and Aboriginal–Crown relations.

When we fall short of these principles, we will listen carefully to the criticism we receive, consider our actions, and resolve to do better.
Our Team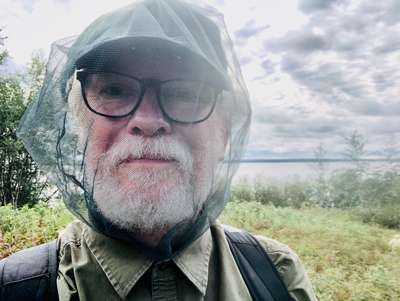 He began by becoming involved with renewable energy projects and advocacy, helping to found an informal group, 50by30, and for the last few years, serving on the board of the Manitoba Environmental Industry Association.
Over the last 10 years, he has become involved with Aki Energy and a number of First Nations finding ways for communities to move away from fossil fuels and adopt renewable energy sources, with a particular focus on biomass.
About six years ago, he was asked to lead the team that developed the Environmental Remediation And Alternative Energy Systems (ERAAES) project with Northlands Dënesųłiné First Nation in Lac Brochet. Through this project, the community cleaned up soil and groundwater contaminated by diesel, built a biomass district energy system, recruited, trained and hired a local team to harvest and haul wood into the community, put up more than 1,000 solar panels, and installed a lake-based geothermal system.
With ERAAES now up and running, he has led a team of engineers and designers to develop plans with Northlands, and with two other First Nations communities in northwest Manitoba–Barren Lands (in Brochet) and Sayisi Dene (on Tadoule Lake) to chart an ambitious, realistic course to get all three communities off diesel for both heat and electricity, and to create locally-owned-and-operated renewable energy systems.
He continues to be interested in the intersection between business strategy and business ethics, in practical strategic planning, and in market design. In his spare time, he leads the band at Tabernacle Baptist Church in Winnipeg's north end.