​Short Bio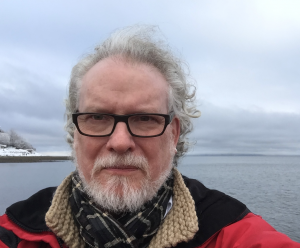 Bruce Duggan is an Associate Professor of Management at the Buller School of Business at Providence University College & Seminary.
He is the President of Boke Consulting and, in that role, is Project Lead for Aki Energy on ERAAES, an integrated soil remediation and alternative energy project for Northlands Dënesųłiné First Nation. He also helps lead the Waste & Derelict Scrap Metal Collection initiative for the Keewatin Tribal Council, Northlands Dënesųłiné First Nation, Barren Lands First Nation, and Sayisi Dene First Nation. He has also done studies on the feasibility of using biomass to heat community buildings in three other Manitoba First Nations.
Bruce also a member of the Board of Directors of the Manitoba Environmental Industries Association, a Steering Committee member of 50by30, and the band leader at his home church, Holy Trinity Anglican, in downtown Winnipeg.
Full CV
PDF
EMPLOYMENT
Providence University College & Seminary
Associate Professor
Buller School of Business
2016 – ongoing
Director
Buller Centre for Business
2012 – 2016
Associate Professor
Business Administration Program
2006 – 2012
Assistant Professor
"
2004 – 2006
Adjunct Faculty
"
2003 – 2004

Areas of focus include business ethics, non-profit management, and strategy
Managed design/build of:

campus-wide district heating system with central biomass boiler
new Lecture Theatre and distance-education-enabled Seminar Room

As part of teams:

developed the Business Administration program into the Buller School of Business
organized Nuts & Bolts for Pastors, a workshop series on administration skills for church leaders
organized Building Better Board/Pastor Relations, a workshop for church leaders
organized Succeeding At Succession, a workshop for small businesses
organized Take & Eat, a conference on food and Creation Care

Working with the Manitoba Trucking Association, advocated for the Greener Trucking Initiative
With students, developed:

Share Your Knowledge, a community-wide initiative to provide used textbooks to two schools in Africa
BiomassBrokerage.com, an online market for biomass buyers and sellers
Fuel for the Future, a fundraising initiative to support a biochar business in a Ugandan refugee camp
Dead Weight Electronics, an eWaste recycling program
Texts4Less, a student-run business selling used textbooks on consignment
Take Ten Coffee Shop, a student-run business
Project in progress: Le Couloir Vert: Rural Transit for the Red River Corridor

Interim Director
Manitoba Conservatory of Music & Arts
2003 – 2004
Executive Director
Winnipeg Symphony Orchestra
2000 – 2002
Managing Director
Plug In Institute of Contemporary Art
1996 – 2000
Director of Development
Prairie Theatre Exchange
1992 – 1996
(also Director of Marketing, 1995 – 1996)
Executive Director
Winnipeg Film Group
1987 – 1991
Child Care Worker
Children's Home of Winnipeg
1979 – 1987
EDUCATION
MBA
Asper School of Business, University of Manitoba
2003
Dean's Honor List
Member, The Honor Society of Beta Gamma Sigma
BA
Psychology, University of Winnipeg
1983
BSc
Biology & Religious Studies, University of Winnpeg
1979
CONSULTING
Principal, Boke Consulting
Aki Energy

Project Lead, design and construction of the Northlands Dënesųłiné Environmental Remediation And Alternative Energy Systems (ERAAS) project (2016 – ongoing)
Alternative Energy Pre-Feasibility and Feasibility Studies for Northlands Dënesųłiné First Nation (2015 – 2016)
Pre-Feasibility Study of Biomass for Community Heat in 3 Manitoba First Nations (2015 – 2017)
Contributed to Community Sustainability Planning for Northlands Dënesųłiné First Nation (2016)
Contributed to Business Plan development for First Nations Waste Solutions (2015 – 2016)

Keewatin Tribal Council

Derelict Vehicle Scrap Metal Collection (2016)
Waste & Derelict Scrap Metal Collection Phase 2 (2017)

Elim Chapel

Facilitated strategic planning sessions (2015)

Steinbach Chamber of Commerce

Facilitated strategic planning sessions (2014, 2015)

St-Pierre-Jolys Chamber of Commerce
Led presentations and workshops on:

Shopping Local (2015)
Keeping Repeat Customers (2013)

What To Do When A Giant Moves In Next Door: Business strategies for small businesses facing large competitors (2012)

Immanuel Pentecostal Church

Daycare Feasibility Study (2008)

COMMUNITY INVOLVEMENT
Manitoba Environmental Industries Association
Board Member
2015 – ongoing
Conference Organizing Committee
2012, 2014
Green Faith Alliance
Organizing Committee Member
2012 – ongoing
50by30
Steering Committee Member
2010 – ongoing
Holy Trinity Anglican Church
Band Leader
1994 – ongoing
Vestry Member
2015 – ongoing
Synod Delegate
2007 – 2013
People's Warden
2004 – 2007
Downtown Mission Ministry Committee
1997 – 2003
OMG (Oh My Gospel) Jambouree: Honouring Indigenous Music Awards Gospel Nominees
co-organizer with Leo Dufault & back-up band leader
2014 & 2015
Manitoba Round Table for Sustainable Development
Member
2014 – 2016
Diocese of Rupert's Land (Anglican Church of Canada)
Chair, Diocese of Rupert's Land Covenant Task Force
2012
Member, Diocesan Council
2008 – 2010
Canadian Muslim Leadership Institute
2010 – 2011
Facilitator, workshops on the role of faith in public life
Winnipeg Millennium Council
Executive member
1997 – 2001
Manitoba Cultural Coalition
Founding President
1993 – 1999
Performing Arts Consortium (Pantages Theatre)
1997 – 1999
Board member
Canadian Conference of the Arts
Vice President
1999 – 2000
Board member
1994 – 2000
Artspace
President
1988 – 1990
Community Coalition on Mental Health
Executive Committee
1985 – 1988
Child & Family Services of Central Winnipeg
1985 – 1987
Planning and Review Committee
Committee to Establish a Child Ombudsman
1983 – 1984
WRITING & PRESENTATIONS
Northlands Dënesųłiné: A First Nation Leading Alternative Energy Transformation presented to ManSEA (Manitoba Sustainable Energy Association conference & to NextUp Manitoba
March & April 2017
The Relationships Between First Nations and Businesses in Manitoba presented as part of Prov(f)talks: The Providence Public Scholarship Series
March 2017
Renewable Energy and Climate Change: What Then Shall We Do? sermon given to the First Unitarian Universalist Church of Winnipeg
February 2017
A Vision for Renewable Energy in Manitoba keynote address presented to the South Eastman Transition Initiative annual conference.
April 2016
The Charleston Church Shootings sermon given to Holy Trinity Anglican Church
June 2015
Having Dominion: A Christian Approach to the Environment presented as part of Prov(f)talks: The Providence Public Scholarship Series
November 2014
In Regard to the Manitoba Hydro Needs For And Alternatives To ("NFAT") Business Case Submission presented to the Manitoba Public Utilities Board
February 2014
The Biomass Initiative at Providence presentation to The Government of Manitoba's 6th Annual Biomass Workshop and Tour
April 2013
Globalization: Truth & Consequences presented as part of the Manitoba Professional Planner's Institute and the University of Manitoba – Faculty of Architecture – Department of City Planning's "Taking the Pulse of Planning Practice 2013"
April 2013
What's A Christian to Think: Toward a Christian view of market globalization presented as part of The Providence Public Lecture Series
March 2013
Environmental Initiatives at Providence University College & Seminary presented to the Canadian CED (Community Economic Development Network's Manitoba 2013 Planning Conference
February 2013
Building a Better Providence presented at the Canada Green Building Council's Better Buildings Conference (Winnipeg)
April 2012
Alternative Energies presented to the Manitoba Environmental Youth Network conference
November 2011
Skeletons in the Closet: Winnipeg's Holy Trinity Church & the First Riel Rebellion presented with Leigh Taylor as part of Parish Day
October 2011
The Role of Faiths In Our Society (and how you can shape it) presented as workshop to the Canadian Muslim Leadership Institute
June 2011
Business Ethics? published in Providence University College & Seminary's Eye Witness
Spring 2009
Addressing Payday Lending Questions from a Business Ethics Perspective presented to Manitoba Public Utilities Board
February 2007
Winnipeg: An Urban Myth?
Address to University of Manitoba Faculty of Architecture Mid-City Conference
1998
Re-presented a number of times, including a presentation in 2006 sponsored by the Manitoba Professional Planners Institute with the support of the Department of City Planning, University of Manitoba.
Published in Dead on Arrival, a journal of the University of Manitoba Faculty of Architecture.
2009
CBC radio
Host of The Arts Straight Up
Commentator on Morningside, Tapestry, Commentary, The Arts File, and The Arts Tonight
Winnipeg Free Press
op-ed piece on urban development & Unicity Mall
op-ed piece on development of Waverley West subdivision & core area development
Border Crossings
articles & reviews on new music, television & film
Tart Magazine
articles on culture & politics
MUSIC RECORDING
Jazz for Christmas 2
The Bob Watts Trio
2014
Producer
Jazz for Christmas
The Bob Watts Trio
2010
Co-producer
FILM
The Republic of Love
feature
2004
Executive Producer
Invited – Toronto International Film Festival
Released theatrically in Canada.
Smoked Lizard Lips
feature
1991
Co-producer, director, writer, editor.
Nominated – Manitoba Blizzard Awards, Best Supporting Actor.
Invited – Beaubourg 1993: Les Cinemas du Quebec et du Canada.
Released theatrically in Canada.
Mike
½ hour
1989
Executive producer, director, writer, editor.
Winner – Golden Sheaf Awards, 1989 Yorkton Short Film & Video Festival:
Best Short Drama
Best Performance (Kyle McCulloch)
Winner – Golden Apple, United States Educational Film Festival.
Nominated – Genie Awards, Best Short Drama.
Nominated – Blue Ribbon, American Film and Video Festival.
Nominated – Manitoba Blizzard Awards, Best Short Drama.
Invited – Toronto International Film Festival, Vancouver International Film Festival, American Film and Video Festival (California), Local Heroes Film Festival (Edmonton), and United States Film and Video Festival (San Francisco).
Director / Producer of 5 short experimental films
He That Hath A Bountiful Eye
1989
Pornography Begins In The Home
1986
Separate Bees
1986
Bite
1986
Nominated – Manitoba Blizzard Awards, Best Experimental Film.
Routines
1985
POETRY
Poetry performed at:
Blue Note Cafe
Canadian Haiku Festival (Aylmer, Quebec)
Cardigan/Milne Gallery
Lithium Cafe
Mary Scorer Books
Norwood Hotel
Medea Gallery
Royal Albert Arms
<site> gallery
University of Winnipeg
Winnipeg Centennial Library
Poetry published in various literary journals, approx. 1980-1990, including:
Alchemist
Alpha
Antigonish Review
Atlantis
Capilano Review
CURVD H&Z
Eutopic Furnace
Event
Exile
Fiddlehead
Germination
Harvest
Industrial Sabotage
Mid-Continental
Modern Haiku
Mondo Hunkamooga
Northern Light
Origins
Pierian Spring
Poetry Toronto
Quarry
Repository Press
Rune
Wind Chimes