Click here to access the full Sayisi Dene First Nation Waste & Recycling Initiative Report & Plan.
Recycling & Waste Management to Date
Waste Collection
Although Public Works staff collects trash, there are no standardized collection containers. There is also no consistent system for how people make their trash available for collection. Sometimes, the Public Works staff goes into buildings to collect bags of garbage. Some people put household garbage into institutional collection bins. People sometimes take trash to the landfill themselves. As well, some people use burn barrels in their yard (although this is becoming less common).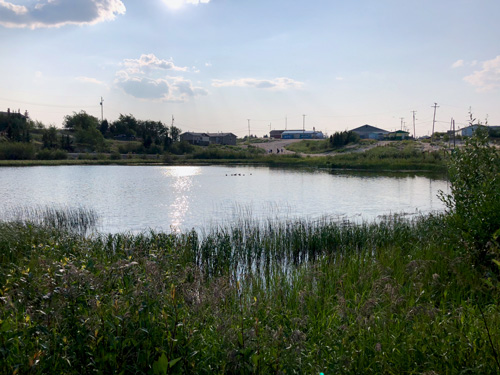 Current Waste Management Facilities
The site was established approximately 3 km northeast of the community. There are some improvements to the current Waste Management Facility (WMF) compared to the previous site:
Berms surround two cells
A rudimentary fencing system restricts some loose garbage from blowing 
away in the wind
Bulky metals are (mostly) excluded
However, many of the problems of the previous site are being repeated in the current WMF:
Unrestricted public access
No set hours
The gate is always left open
No signage informing residents of appropriate dumping areas
No separation of recyclables from the general waste stream
Frequent, uncontrolled burning of household and Northern Store waste
Deposited waste is not covered
Fencing not adequate to exclude wildlife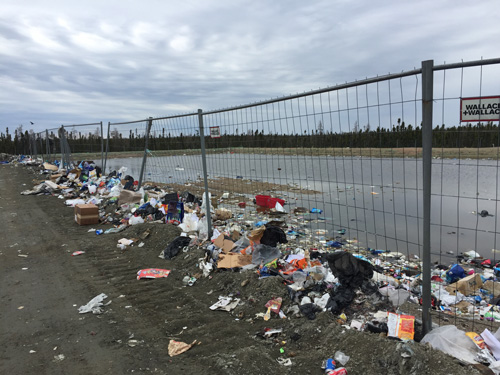 Derelict Equipment Area
Around and behind the Public Works Garage which was done with the help of TechReview, hundreds of pieces of derelict equipment (and thousands of parts and small equipment) are scattered around an area at least double the size of the current Waste Management Facility.
Cleaning up this area is possible. However, this will take a number of years, and require sustained coordination between waste and recycling staff, works and operations staff, band administration leadership, and Chief and Council.
The Current Project
This project was initiated in late 2017 SDFN Chief and Council in discussions with members of the Boke Consulting team. A Council Consensus Form was signed with Councillor Robert Powderhorn designated by the motion to take the lead on this project within Council.
Work on the ground began with recruiting a Cleanup Crew. Any community member currently on Income Assistance was eligible to join the Crew. All were trained on the basics of safe work and separating recyclables.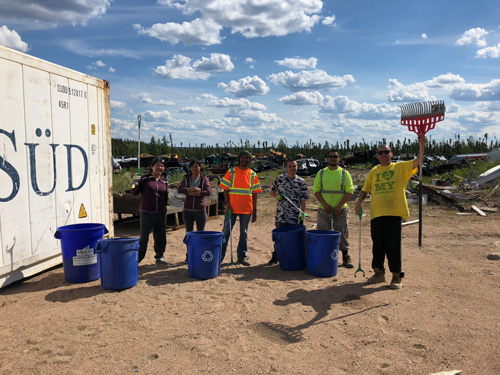 The Plan
develop school curriculum

work with Northern Store to reduce packaging

choose staff; begin operations;

begin training

continue operations & training;
supplement staff with WOP participants & summer students;
develop mandate & governance

Managing external agreements

prepare & ship materials;
review agreements annually

Creating recycling & waste boxes and stations

set up Recycling Depot & Transfer Station

build & distribute household boxes

repair & replace community & household boxes, as needed

Bringing WMF into compliance

build fence & sub-cell separators

separators
sub-cell capping

review operations with governments

Implementing comprehensive collection & waste management system

choose, purchase and ship equipment & supplies

begin in-vessel composting;
begin using recycling shuttle

repair or take apart derelict buildings

review waste & recycling collection & management

Cleaning up waste backlog

set up vehicle decommissioning

vehicle, equipment and appliance decommissioning, staging and shipping

Monitoring current and legacy waste sites

choose monitoring company

take & send samples for analysis annually
Engaging The Community
The success of this program will largely depend upon how much support it receives from the community. It needs to be clear to all Band staff—and to the wider community—that the way waste has been dealt with in the past cannot continue, and sustainable waste management and recycling is a priority.
Creating Local Jobs
Implementing this Plan will increase local employment. (For details, see Staffing and Governance, below.)
Awareness
The staff and leadership of the waste and recycling initiative must work systematically to build awareness of what is happening, and explicitly show how activities embody the values of the community, and contribute to the community's quality life. Some elements of the Plan that will help build awareness are:
A Recycling Depot in the centre of the community, with cleanup and recycling initiatives run out of the Depot
Recycling bins in public places
Visible examples of recycling and reuse of waste materials
Events and activities advertised through posters in the communityand Public Service Announcements (PSAs) on social media
Getting people actively involved will help to build a sense of ownership and connection to the Plan. A primary way to get people involved will be through community events like Spring Cleanups and Recycling Drives to collect specific recyclables and derelict appliances.
Community Involvement in Decision Making
The Plan needs to be reviewed annually by the community, with suggestions for improvement asked for, and acted on.
Waste & Recycling Staff need to take the lead on this activity, with support from Band staff, and Chief and Council.
One of the first community decisions that needs to be made is a decision whether or not to have the Northern Store charge a 5¢ or 10¢ deposit on drink cans and bottles. This money would be given to the Waste & Recycling initiative, and then given back to anyone bringing in a drink can or bottle to the Recycling Depot or Transfer Station