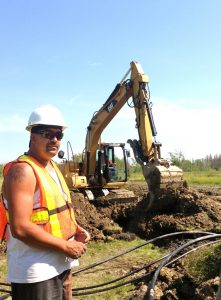 Over the past while, Boke Consulting has been privileged to help out with some initiatives undertaken by Aki Energy. Aki is a non-profit First Nations social enterprise that provides training, employment, and green economic development opportunities on First Nations.
Some of the initiatives include:
figuring out renewable energy heating alternatives in Northands Dënesųłiné First Nation, on Lac Brochet
finding out if biomass is a feasible option for heating non-residential buildings on three other First Nations communities
exploring ways to integrate northern communities into Manitoba's waste recycling programs
exploring ways to expand vehicle salvage operations in communities accessible only by winter roads
Community Energy Plans
One of the most active initiatives is the development and implementation of community energy plans for three diesel-dependent First Nations in northern Manitoba.
More detailed versions of these plans are also available:
These plans were built on even-more-detailed analyses. Two of the key components:
In every case, we have three goals:
find solutions to energy and "waste" problems that are both environmentally and financially sustainable
create local jobs
build local green economies
The Northlands project is underway, as is the vehicle salvage initiative. The other two are in feasibility studies. Even at these early stages, it is clear that many, many opportunities exist where all three of these goals can be achieved simultaneously.
You can find out more about Aki Energy here.