Northern and remote communities in Canada face many transportation challenges. As always, where there are challenges, there are also opportunities.
Until now, most transportation has been fossil-fuel based. And most transportation companies are not owned by the people who live in the communities. As a result, existing transportation systems generate significant environmental harm, and most of the money spent on transportation leaves the communities.
At Boke, we have only just begun to try to tackle transportation. We're working on:
using lake and river routes for freight transportation
electrification of local land transportation
electrification of water transportation
community ownership and local jobs in transportation
Electrification of Local Land Transportation
We got our first start on transportation issues in 2015, when Aki asked us to research and purchase an off-road electric runabout for the Meechim Farm project in Garden Hill First Nation. A summary of our report on the the state of off-road vehicles at that time is available here.

Side-by-side electric vehicles—with the Polaris Ranger EV the leading contender in this vehicle category—are a mature, commercially-available technology that are under-utilized in remote communities. Safer and able to carry heavier loads than ATVs, these hold great promise for personal and small-load transportation in and around remote communities. Stay tuned for developments on this front in the waste and recycling projects in Barren Lands, Northlands Dënesųłiné and Sayisi Dene First Nations that we're helping with.

Vehicle electrification has, of course, made a lot of progress since 2015. Perhaps the biggest advance that will be relevant for local transportation in remote communities is Ford's electric F150, due for release in 2022. Other possibilities coming online include electric vans and small buses.

For remote communities with abundant renewable electricity, electric vehicle deployment makes sense now. For diesel-dependent communities, this will only make sense as they switch away from diesel to renewables.

Loading the EV for shipping to Garden Hill
Using Lake and River Routes for Freight Transportation
Many remote communities are located on large, navigable lakes, and are connected to extensive river networks. These are used for fishing, and for travel to hunting and trapping areas. However, water-based freight transportation has been largely replaced by air cargo and trucking over winter roads. We're working on alternative freight transportation using water routes. While water-based freight transportation obviously isn't viable for all remote communities, we think it can be more widespread than it is now. One small example of what we've been working on lately is working with Northlands Dënesųłiné First Nation in the summer of 2020 to create and test a prototype barge for wood transportation across Lac Brochet.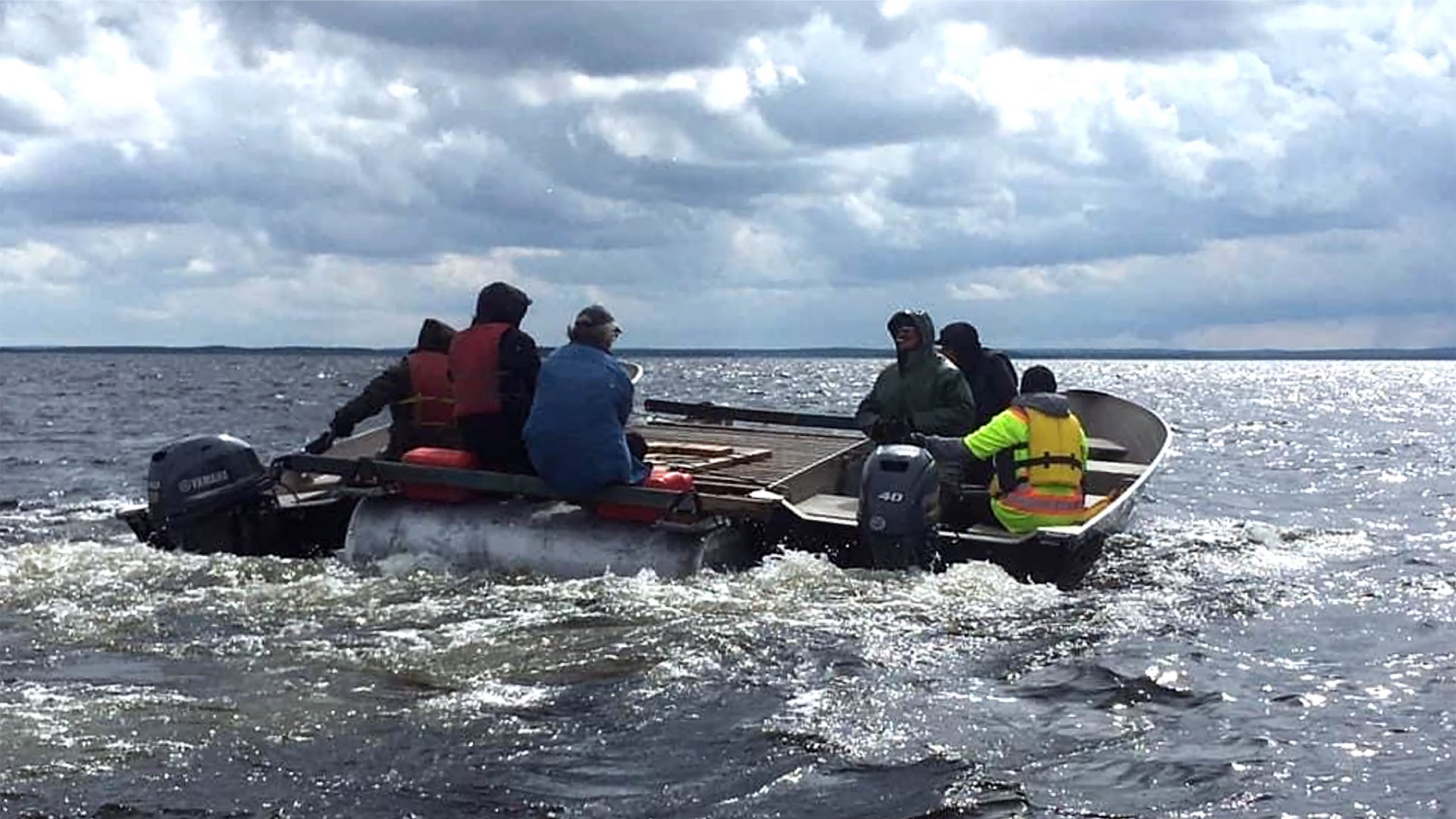 A PowerPoint slide presentation of this initiative is available here.